profile
Ian Olsen & Alan Jackson: Making Lemonade
Ian Olsen and Alan Jackson from California-based chain Lemonade have created the epitome of the modern marketplace, reinventing what conscious eating means in today's fast-paced world. Flying Surf Air to and from their 20 + different locations has helped them expand outside of LA, bringing their innovative business model to more cities in California.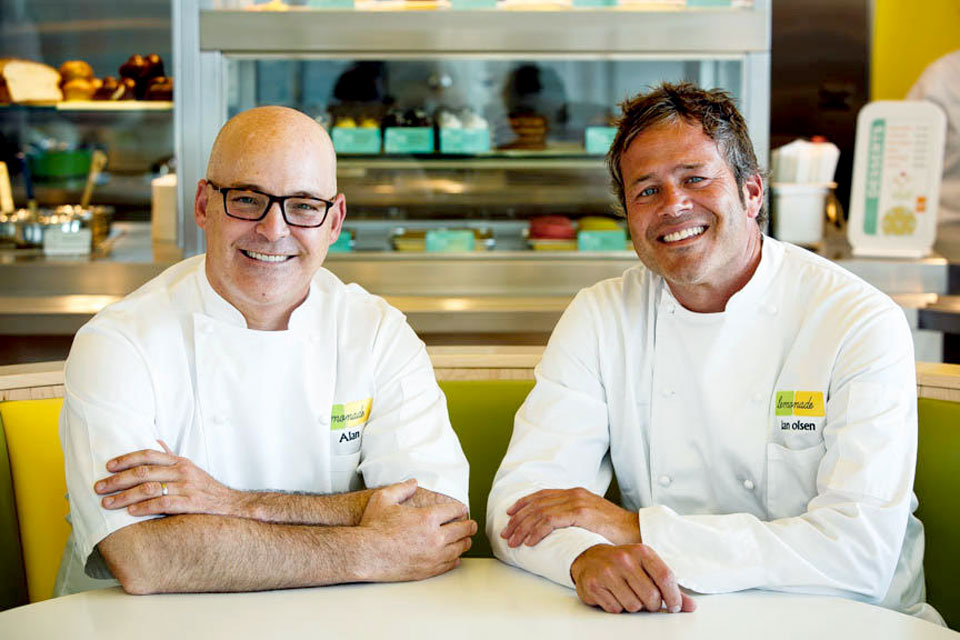 When you launched Lemonade, did you ever imagine having over 20 different locations?
I never considered that we'd have more than a handful of Lemonades, and by years end, we will have over 30 Lemonades, spanning from San Diego to San Francisco, which makes us the perfect Surf Air passenger! I didn't think I was opening anything unique, just simply what I wanted in my own life. I think it was the public's reception that encouraged us [Alan and business partner Ian Olsen] to keep growing.
"
On the back of a napkin, we built our five-year, 15-store road map. I wish we still had that napkin because we hit every projected milestone!
"
What do you think made Lemonade such a success?
We all want flexibility and convenience in our daily life, and especially when it comes to eating. Think of the mental negotiations that you have with yourself when ordering from a menu, questions running through your head like, "will I like the flavor, will it be too much, or trying to envision what the menu item will even look like." Lemonade gives customers transparency, convenience, and flexible choices.

Do you feel that Lemonade has helped conquer some of the elitism that can come with conscious eating?
Good food should be for everybody! As a chef, when I wasn't working, I couldn't find anything "to go" or "eat in" that was flavorful, had variety, and was vegetable-focused, affordable or easy. If I wanted something light, A Chinese Chicken Salad or a Tostada seemed to be my only option. I couldn't find the food that would compare to what I'd simply cook at home, have waiting for me in my fridge, or eat for staff meal. I knew I needed to create an "outpost" for people to get the type of food I wanted to have daily for myself and family.  And let's be real, how many times a week can I eat foie gras?
In terms of innovation in the food industry, where do you think Lemonade stands?
When it comes to our food offering, I believe I rely more heavily on the tried and true than innovation. My cooking is deeply rooted in traditional cooking methods, like braising, roasting and sauce making, but I turn it all upside down and use a flavor or unexpected ingredient to modernize a dish.

In terms of pure food innovation, we are a vertically integrated food manufacturing company. Most companies of our small size do not have the manufacturing capabilities that we do. We produce all our own sauces, dressings, marinades, seasonings, and long cooked meat products. By architecting the company in this fashion, we have been able to guarantee recipe adherence, improve quality and the overall health of our product.

Tell us about Lemonade SF. How do your San Francisco branches differ from LA?
We are so thrilled with the warm reception that the Bay area has shown us. The model has proven to work well in highly dense neighborhoods like Yerba Buena, and even in suburban areas like Burlingame. The menus are very similar with the exception of some added Hot Dishes like Braised Lamb with Lemon sauce. It is clear to us that Northern Californians are more comfortable trying the more exotic dishes.
How does Surf Air help expand your business?
Surf Air has made it possible for us to send staff from LA to new store openings. It's a privilege for them, but also a wonderful way to bring a piece of our Lemonade culture to these new stores. Plus, it's imperative that Ian and I have a personal touch in all our stores and juggle our LA and SF locations with our desire to have family time. Flying on Surf Air allows us to strike that perfect balance. There is nothing better than the time saved flying Surf Air.

What's next for Lemonade?
We are planning on opening five more Bay Area stores in the next nine months, and one in Southern California. We are also actively looking at other markets, but have yet to determine our next frontier.